June 1 - 2, 2019
10:00 am
Christ Church Cathedral Ottawa
This event has already occurred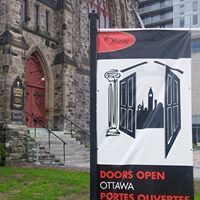 As part of our ministry of hospitality, we are looking to welcoming friends, neighbours and visitors to Christ Church Cathedral as part of this year's Doors Open Ottawa on June 1 (10-4pm) and June 2 (noon-4 pm).
Visitors are invited to join a guided tour of the Cathedral or wander on your own, reflecting on the space in a more personal way.
Interested in finding out what it feels like to be part of a Cathedral choir? Check out the "Chorister for a Day" program. The Cathedral Girl's Choir will present a free concert for those who prefer to see how it's done.
Need a break? The Cathedral Women will offer refreshments for sale and space in the tea room to catch up with friends or just stop for a few minutes in your busy day.
This year's events offer something for everyone and we look forward to welcoming you!