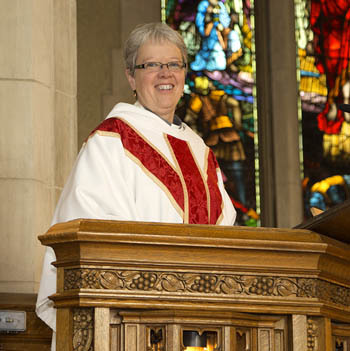 The Venerable Pat Johnston is delighted to be serving as an assisting priest at the Cathedral. Pat grew up in Deep River, Ontario where she sang in the children's choir of St. Barnabas Anglican Church. For a year after high school Pat volunteered in the parish of Christ Church, Grande Prairie, Alberta. It was there that she fell in love with parish ministry.

After studies at Queen's, Kingston and Trinity, Toronto, Pat was ordained in 1983 at the Cathedral and has served in the Diocese of Ottawa since then. Her appointments have included parishes urban (including the Cathedral in the early 1990's), suburban and town settings, as well as serving in the Bishop's Office as Diocesan Archdeacon. Often Pat's work involved building buildings and always building Christian community. She is one of those rare people who like meetings (although she no longer likes the ones that go on late at night). Since her retirement from St. Matthew's, Ottawa in March, 2016, Pat has had several interim pieces of work throughout the diocese, including being the Archdeacon of West Quebec.
Pat and her husband Jamie Tomlinson celebrated their marriage at Christ Church Cathedral in 1993. They have one son, Simon who lives and works in Pat's hometown of Deep River. They also have one dog, Farley, who went to one Blessing of the Animals' liturgy and has not been invited back!

Please introduce yourself to Pat and tell her some way that the Cathedral has been a blessing in your life.