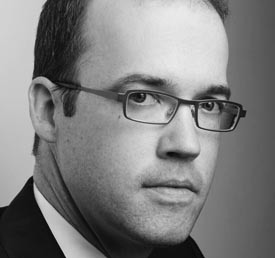 A native of Nova Scotia, James studied at Dalhousie (B.Mus. with a University Medal) and McGill Universities (M.Mus.) as well as the Eastman School of Music where his teachers were David MacDonald, John Grew, and David Higgs. While at Eastman he served as a graduate assistant to early music legend Paul O'Dette. In 1996-1997 a Canada Council for the Arts grant enabled studies in France with the organists Louis Robilliard (Lyon) and Dominique Serve (Aix-en-Provence). James has also studied conducting with Denise Ham, Joseph Flummerfelt, Simon Carrington, and Hugh Floyd and participated in masterclasses hosted by Chorus America and the Conductors Institute at Bard College.

Prior to his appointment to the Cathedral, James served for ten years as Director of Music at First Baptist Church, Ottawa. From 1994-96 he served as Assistant Organist at Christ Church Cathedral, Montréal having previously served as Assistant Organist at the University of King's College, Halifax. From 1997-2001 he was Director of Music at First Presbyterian Church, Niles, Michigan, where he led a music program of seven choirs and well over one hundred singers.

James has been the recipient of peer-adjudicated grants from the Canada Council for the Arts, the Canadian Department of Foreign Affairs and International Trade, the Deutscher Akademischer Austauschdienst (DAAD), and the Nova Scotia Talent Trust as well as numerous academic awards at the undergraduate and graduate levels. He is also a prizewinner in numerous competitions including the National Playing Competition of the Royal Canadian College of Organists and the Lynnwood Farnam Organ Competition (Montréal).

His concert activities include numerous recitals on distinguished instruments in Canada, the United States, the United Kingdom, Denmark, Germany, Hong Kong and Singapore as well as performances on the English and French networks of the Canadian Broadcasting Corporation and at several national conventions of the Royal Canadian College of Organists. In addition he is a frequent accompanist and continuo player for ensembles throughout Canada's Capital Region, including the National Arts Centre Orchestra and Choir, Thirteen Strings Chamber Orchestra, the Ottawa Choral Society, the Ottawa Bach Choir, the Cantata Singers of Ottawa and the Anglican Chorale.