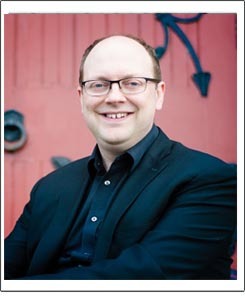 Andrew McAnerney has a wealth of experience as a conductor, educator, singer, and arranger. He was raised in the Anglican music tradition. As a boy chorister he sang in the choirs of Cirencester Parish Church and Gloucester Cathedral. He studied music at Oxford University while holding the position of academical clerk (choral scholar) at Magdalen College. As a tenor lay clerk he sang at St.George's, Windsor Castle and Rochester Cathedral before pursuing a professional career singing with groups as diverse as the Tallis Scholars and BBC singers.
Andrew moved to Canada in 2012. In addition to his work at Christ Church Andrew is the Artistic Director of the Studio de musique ancienne de Montréal (SMAM) and the Cantata Singers of Ottawa. In November 2018, Andrew made his debut directing the National Arts Centre Orchestra in a performance of the Monteverdi Vespers with the Royal Winnipeg Ballet. He has also appeared as a guest conductor with Arion Baroque Orchestra, Elora Singers, Ensemble Caprice, and La Rose des Vents.
Andrew is passionate about music accessibility and dedicated to ensuring that the next generation of boy choristers obtain an excellent musical education.